African Dance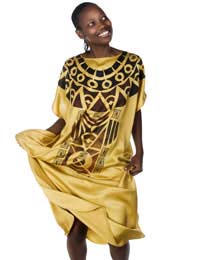 Inseparable from ceremony, ritual, rhythm, and music, traditional African dance styles are as much a cornerstone of Sub-Saharan and West African cultures as they are a powerful and unique facet of the dance world. Not only is African dance a powerful experience for the spectator, but it is also a symbol of solidarity and an important means of communication for the performers and their community. While its influence in the West can be seen mostly through contemporary and hip-hop dance forms, it is fortunate for researchers and dancers alike that African dance still exists internationally in its purest forms.
Shared Qualities
Though there are innumerable variations within the West African dance traditions which would be impossible to discuss exhaustively, there are some elements which many African dances share. First, the body of the dancer is polycentric, or segmented. This means that movements tend to be concentrated in a portion of the body, be it the hips, legs, arms, etc. The separate regions of the body are recognized and utilized either individually or simultaneously, rather than moving as one limited unit. There are other elements as well which unite most ritualistic African dances, such as the importance of bare feet, shuffling steps, improvisation, the core nature of the hips, and pounding rhythm. Most African dances rely upon the beat of drum music and sometimes, the accompaniment of singing.
One deeply important quality of African dance is the ability of the individuals taking part to express emotion and personal style. With each dancer relying upon the movement style of his or her own body, the improvisational portions of the dances become unique and inimitable. Similarly, the emotional power each dancer brings to the dance will be different. As such, the movements in the dances are as much dictated by 'internal movement' as external. In other words, ritualistic dances are often driven by movements which originate inside the body and work their way out, rather than adopting the Western style of moving the body as a whole through space.
Ceremony and Ritual
The most important thing to recognise about traditional African dances is their inextricable link to the social practices of the community from which they originate. More than a form of entertainment, dance, in African cultures, proclaims any moment of great importance within a group or society. Never standing alone, the dances are part of a much larger ceremonial practice. More than performance, it is ritual. With a shared movement vocabulary, the individuals within African communities celebrate and communicate using song, dance, costume, and narrative.
Such ceremonies might take place to mark weddings, deaths, births, the naming of a child, the healing of the sick, the changing of seasons, a major change within the landscape or the society, occasions for storytelling, the coming-of-age of an adolescent, a spiritual plea, or a declaration of war or peace. Additionally, the dancers themselves will vary depending upon the occasion. Some dances are performed only by certain members of the community who possess a certain status or occupation. These individuals, such as healers or warriors, might have more dance training than those who hold other positions in the village. Other dances and rituals, however, include everyone and can be done by forming a ring in which solo dancers can enter, a serpentine formation, or two teams.
African Dance Today
Though African dance still exists, both within African villages and in performance venues throughout the world, it has not been free of intercultural influence. First, the dances done in Africa have maintained their ceremonial importance but in many regions, have picked up elements of the Caribbean or Latin dance traditions as a result of tourism and migration. Simultaneously, African dance itself has infiltrated, even helped create, many Western dance forms, including jazz, tap, swing, and most notably, contemporary. Many contemporary African-inspired dance companies have formed in the last few decades throughout Europe and the Americas. As a result, African dance has become an ever-growing and constantly spreading art form.
You might also like...