The History of Dance in Argentina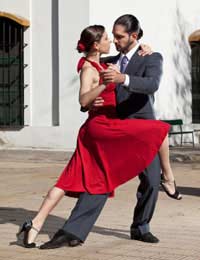 Argentina may not have the association with dances which have entered popular culture as a pastime such as salsa, but the one dance with which the country is inextricably linked is the tango. To most people, the tango is Argentina and Argentina is the tango – even though it also originated as much in Uruguay. But the history of dance in Argentina encompasses far more than just the tango, as dance forms a crucial and important part of the country's history.
The First Argentinean Dancers
It is well known that Argentina was colonised, as was much of south and Latin America, by Spanish explorers. These Spanish explorers introduced the idea of slavery to Argentina and brought African slaves to the country. They were introduced as far back as the 1770s to work in the haciendas and with them, they brought their dance traditions and customs. Throughout the 1800s, this dance tradition fused with that of the Spaniards and prospered, until it became part of the national psyche. It was given prominence in society as something which slaves did together to celebrate either when they had time off or when they were freed.
More Immigrant Influence
As with many countries, Argentina had an influx of immigrants in the 18th century. People arrived in central and south America looking for prosperity and a better way of life. They also brought their customs and traditions to the country and merged the traditions of the African slaves with their own. This led to dance, especially the tango, being seen as a dance for the lower classes and for people of poorer backgrounds.
Dispersal of the Dance throughout the Country
Once the dance had started to gain popularity amongst the immigrant classes, lower class Argentineans were quick to pick up on it as a way of spending time. The dance clubs which had been frequented by immigrants were soon attended by poor Argentine men as well, who then took the dance back to their parts of the city where it was introduced to indigenous women.
Next Interpretations
From here, young couples who did not have much time to spend together started to take up the dance. They interpreted it and added things in of their own. Because, at the time, young couples did not have much chance to spend time together, the dance became a frenzy of longing and love, and it evolved into a cross between a polka and a tango, which is known as a Milonga.
Upper classes looked down on the tango and its alternative forms as something which had sprung up from undesirable areas. But dance was becoming such a draw that young men from higher class families could not resist it and started to visit the clubs where dance was prevalent and took it back to their own societies. Once it had become popular among these classes, then worldwide appeal was inevitable as the upper class families began to travel, taking dance with them. In the 20th century, Argentine high class families had travelled to Paris, London and New York – and the Argentine form of dance had gone with them. The rest, as they say, is history.
You might also like...