Joining A Dance Company Or Dance Group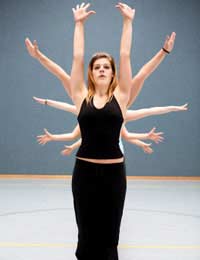 Joining a dance company or dance group is a great way of developing and showcasing your dance skills. Getting started can be a daunting task but with the right information, you can feel confident in choosing a dance group or dance company that is right for you and benefit from their combined experience. It's all about becoming the best dancer you can be, learning new skills and experiencing the thrill of performance. Being involved in the dynamics of a dance group to develop productions is a great learning environment, but requires commitment and dedication, so make sure you know exactly what you are in for.
Dance As Profession or Fun?
What do you want to get out of joining a dance company or dance group? Are you interested in training at a professional levelas a dancer, or do you want to simply have fun choreographing new performances? There are many different types of dance companies; some provide a training ground for the world's future professional dancers, whilst others are small groups that perform regularly at corporate events. Your experience in dance so far will give you some idea as to the type of dance company or group that is best for you, but be open minded; experience in a particular type of dance doesn't mean you can't get involved with others. Middle Eastern, Bollywood, belly dancing and cheerleading groups accept dancers with different backgrounds and training.
If your dream is to dance professionally, then a dance school affiliated with a company could be for you. Depending on your previous training, you may wish to take classes through the dance school as preparation for entering the company later on. This is not a prerequisite, open company auditions are often held, however taking classes at the dance company of your choice will ensure you are familiar with teaching styles and be more informed about audition requirements. You will also receive information about upcoming performances, work shops and short courses.
If attending an open audition, it is a good idea to attend a workshop before hand. Dance companies often hold workshops or master classes which can be great audition preparation. Take part in as many as possible with different dance companies to gain experience with various choreographic and teaching styles. The more experience you have, the more confident you will feel in an audition environment.
If At First You Don't Succeed As A Dancer...
Try, try again! Don't be discouraged if you don't make the selection the first time around. Dance companies want to make sure you are serious - most rarely accept dancers the first time you audition. Put it all down to experience and if you really want to join that dance company, don't give up. Show you are serious by taking a summer course, train hard and you will have a better chance of being accepted next time. Maybe you realise through the audition process that the dance company is not right for you, in which case you can set about finding one that is.
Specialty Dance Groups
If you see yourself performing as a dancer at sporting or corporate events, dinners and galas then join a dance group that specialises in this area. There are countless dance groups of different styles that perform regularly around the country. Performing at events is a great way to gain experience and exposure and you may even earn some extra money for your trouble!
Contact a dance group in your area that takes your interest to see if you can become a part of it. Go along to a practice session to join in, meet the other members and ask questions. Find out how often they perform and where practice is held. Your dance group will require you to be dedicated, which can mean lengthy rehearsals and late nights sewing costumes! As long as you are aware of your responsibilities, you can decide if it's the right dance group for you.
Do your research to find a dance group that suits your aspirations. There is a dance group or company out there for any style of dancer and for anyone that wants to develop as a performer. The amount of time you wish to dedicate is important - professional companies require your absolute commitment to rehearsals, training and performance, which is all part of becoming a full time dancer. Smaller dance groups meet weekly, monthly or when a performance is coming up and can be great if you have other commitments like work or study. Whatever you choose, performing with a group or company is a great way to develop yourself as a dancer. So don't delay, find a group that suits you and have fun!
You might also like...
Hi, my name is Jasper Koh Wei Kiet and I am a student from KK high school. I wanted to join the modern dance performance. I really wanted to join the modern dance performance in my school but I never got a chance to do it which means I'm already too late for that. So I decided to find a place where I can join the dance crew and put on a show. I want my family to watch me dancing and feel proud of me. Just this once and my life will be complete. Thank you.
Mr J
- 10-Nov-23 @ 10:49 AM
Please I want to join dance group Pls join me with some group in Ibadan Nigeria
Temmy
- 8-Nov-23 @ 2:39 AM
I love dancing
Abuja
- 24-Sep-23 @ 12:50 PM
Actually I want to join your dance group. Actually I am a Good dancer, I love hip hop, Bollywood style dance. I hope you are interested in me
Daksh
- 15-Aug-23 @ 2:38 PM
Born in dance..
Saif
- 12-Aug-23 @ 7:36 AM
Mohit Mishra
Mohit
- 6-Jul-23 @ 9:21 AM
I love you dance I am good at Bollywood dance & kuthu dance and little bit hip hopso excited to join a dance crew
Anagha
- 26-Jun-23 @ 2:09 PM
Mohit Mishra
Mohit Mishra
- 20-Jun-23 @ 9:29 AM
I wanna to join dance group please suggest some good group ..I am good with indian folk dance bollywood dance and sami classical
Can I get a promoter
Omega Ug
- 26-May-23 @ 11:35 PM
I want to join this group how can possible ??
Rudra
- 12-May-23 @ 12:59 PM
I like your dance oriented information and your hole website but I am full time dancer I need a dance oriented job And I practice last 6 year contemptry dance so now I become a full time contempty dance and also hip hop and Bollywood and belly I teach small kids
bijoy
- 6-May-23 @ 8:29 AM
I love to dance , I would love to join a crew
Aastha
- 28-Mar-23 @ 4:24 PM
I whd like to join the crew
Iso
- 18-Jan-23 @ 9:50 AM
I whd like to join the crew
Iso
- 18-Jan-23 @ 9:49 AM
Hi i would like to join to help my family and became a famous dancer
Cess
- 4-Jan-23 @ 7:10 AM
I want to join group
Shru
- 5-Dec-22 @ 10:57 AM
I will love to join your dancing group to improve my confidence in dancing
Ajewole khalifa
- 19-Nov-22 @ 1:16 PM
I love dance. I want to do dance but I don't know how can I join a group because I don't know
Delisha
- 18-Aug-21 @ 2:51 AM
I love dancing but I don't how to dance and I wish to know how to dance because I really have the passion for dancing and I will love to join your group
Olivia
- 6-Aug-21 @ 9:54 AM
I love dancing as well as singing. And would love to join a dance group and dance in competitions and become famous.
Odelia
- 31-Jul-21 @ 1:31 PM
I love dancing and I want to join any dancing group close to me
Flexyqueen
- 24-Jul-21 @ 2:05 PM
I want to join dance group. I am trained bharatanatyam dancer
Lata
- 8-Jul-21 @ 11:39 AM
I want to join dance group.I am trained bharatnatyam dancer
Lata
- 8-Jul-21 @ 11:38 AM
Hi. I would love to join a local dance team and perform publicly. I dance various styles ballroom, modern jive etc. I'm in Greater Manchester ??
Jen
- 17-Jun-21 @ 5:55 PM
I love dance and I am of 13. I wanna join a dance group.
Aera
- 27-May-21 @ 5:10 AM
I love dancing and I want to know how to dance more
Jose
- 9-Apr-21 @ 7:16 PM
I'm 15 and I would love to join a dance group and sing or rap
Von
- 10-Feb-21 @ 7:55 PM
I really wish to learn how to dance though I can't dance for now but I really have passion for dancing
Temi
- 10-Feb-21 @ 12:03 AM
I love dancingbut never got the chanceto
lumy
- 27-Jan-21 @ 4:30 PM