Testing Your Limits And Using Your Body With Dance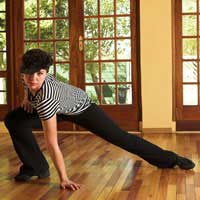 Dance is without a doubt, the most body-centric of art forms. While ballerinas often look long and lean, contemporary or African dancers tend to look strong and muscular. It's easy as dancers to wish we could change something about ourselves or wish for a body that's not our own – one that can kick higher, balance longer or shuffle faster. At the end of the day, though, our bodies are our instrument and they deserve celebration rather than criticism. In fact, part of becoming an experienced dancer is learning to use what you've got and to appreciate your body just the way it is.
Change Things Up As A Dancer
Because it is easy to fall into habits and routines, many dancers go years without ever really knowing what their own body is capable of. Just because you take four ballet classes a week and have a mastered a flawless arabesque doesn't mean there's not a talented tap dancer somewhere in there. Trying something new and different is a good way to uncover new dance skills and to give your body a well-deserved break from its usual stresses and strains. You might find the variety refreshing, even therapeutic.
Take Dance To The Limit
Some dancers, often those who are less confident, fall into the trap of remaining in the same dance classes or at the same level for an extended period of time. While it can be a comfort to see the familiar faces of your friends and dance teachers each week, make sure that you haven't fallen into a lull. If a dance class has become easy or predictable, it's time to step it up. Move to a more advanced class or try class with a new dance teacher. Our bodies have muscle memory and although this is what helps us remember to keep our backs straight and toes pointed, sometimes it can be useful to throw off this memory by introducing a vocabulary of more challenging movements. It's not until you feel challenged as a dancer that you will really know what your body is capable of.
Stretching For Dancers
We often underestimate the power of stretching for dancers. If you want that leg to go higher or that split to fall into place, stretching is the answer. It's easy to forget what an important part of a dance class or rehearsal stretching can be, but in addition to preventing pain and injury, concentrated stretching several times a week can actually change the body. So rather than writing off a dance movement as something you can't do, stretch the muscles in question regularly and well. Odds are in a few months, you'll be reaching further than you ever imagined!
If at First You Don't Succeed As A Dancer...
You know the rest! It sounds like a simplistic maxim, but trying something again and again can truly get you results when it comes to dance. No matter what your age or experience level, the body is always able to learn new things. Continuous practice and help from dance teachers and friends can help your body master anything from a new dance style to that turn that just never looked quite right. And if you get discouraged along the way, remember all of the amazing things your body can already do!
The Dancer's Body
Though there are a whole wealth of things a dancer can change about his or her body with enough hard work, there are some things we cannot change. Every person's body is unique and capable in its own way and things like height, weight or disabilities are often things that we must embrace as part of who we are and what we have to work with. The most important thing to remember is that in spite of what can seemingly be favoured in the worlds of dance, performance or the media, there is no one body that is better than another. A body is just that, a body and it is what we carry inside of it that really counts. So take whatever it is you've got, rock it out and make it dance!
You might also like...
I do love to dance but am not too good but I love d once dat I use to watch
Ailcee
- 11-Jul-20 @ 2:15 PM