Types of Dance Competition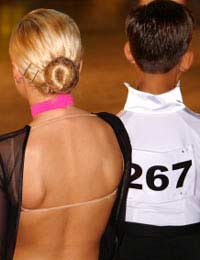 There are so many different types of dance and different genres, that seeing what types of competitions are out there can be a little daunting. It may be that you are aiming for medals or you may just want to test yourself against your peers. But whatever it is you would like to do, there will be a type of dance competition for you.
Dance Festivals
Dance festivals tend to be more informal, local affairs. They will often be organised by a local authority and invite people from schools and dance classes around that area to take part. Dance festivals are a great way to see how you are doing compared to your contemporaries. There will usually be different classes within each section as well, which means, because the events are local and usually annual, that as you get better, you can move up through the classes each year to get a real measure of how well you are doing.
Dance Exams
While examinations are, strictly speaking, not competitions, the amount of preparation needed for them is so vast that they are roughly equal to a contest in the work needed to be put in. They are perfect for seeing how you are doing, when compared against yourself. Examinations are the ultimate self-evaluation, as they will show you where your dancing has improved and where it needs work.
Competitive Dance
Competitive dance is a contest whereby dancers perform a routine rather than a specified dance such as ballroom or latin. In competitive dance, the dances are usually created by the dancers and their coaches and the dancers then perform the short routines in front of judges. The judges will score each routine, looking at a wide variety of elements and the dancers will usually be required to show versatility.
Ballroom and Latin Competitions
By contrast, dance competitions for a particular style of dance sees each dancer, or each couple, take to the floor to dance a dance which has its own rules and moves. The dancers must be able to execute these moves, elegantly and confidently. There is less improvisation and these contests are more about being able to learn a dance rather than expressing oneself through the choreography. Dances are usually scored out of six, with half points being able to be given.
TV programmes such as the popular Strictly Come Dancing have meant that more people are taking an interest in dance competitions. And while it is laudable that such a programme has encouraged more people to take up dance, it is well worth noting that there are plenty of other types of dance contest which merit interest as well. The BBC, in particular, has attempted to draw people's attention to this with a handful of other shows, including one in which dancers from all genres were invited to take part. But they have not had the mainstream success that Strictly has done with the consequence that more modern types of dance contest have not seen the explosion in popularity which ballroom and Latin have.
You might also like...
I just want to improve my knowledge in dancing ..Can I join a workshop her in Davao City?