Choosing Jazz Shoes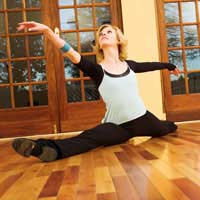 With so many styles of jazz shoe on the market, choosing the right pair for you requires careful consideration. New styles are constantly being brought on to the market with improved construction and material. Whether you are buying your first pair or replacing worn out shoes, know the different styles available and try on as many pairs as possible. If you are part of a dance company or group, check which style the teacher or other members recommend. You may wish to have different pairs for class and performance, or an all round pair to suit both. Your jazz shoes can be expensive so it is important to choose the right pair for your specific needs.
Full or Split Sole?
Jazz shoes should fit the foot snugly, like a ballet shoe. Fit is very important, too much room may cause rubbing on the foot and shoes that are too small can cause cramping. Split sole shoes provide more flexibility in the foot, hugging the arches and allowing the foot to point with ease. Full sole shoes can appear more like a street shoe on stage, as they have a slightly heavier look. They can also be fitted with custom made orthodics if required.
Shoes and Boots
Jazz boots provide more ankle support and can be a great choice for class. Shoes are better if a quick change is required, and there are slip-on styles available which are even easier to pull on and off, held in place on the foot by elastic. If in doubt, check with your teacher.
Material
The uppers of jazz shoes are usually made from leather, but are available in synthetic leather, elastic, neoprene and canvas. The sole is generally made from rubber, although suede soles are available in some styles and can improve your turns on vinyl flooring. Leather shoes are generally more expensive, so canvas can be a budget-friendly option for class, whilst still providing a good fit. New styles recently introduced to the market have an elastic arch, which hugs the foot and provides excellent flexibility.
Jazz Trainers
These can be an excellent choice of jazz shoe and are a great teaching shoe. The sturdy design allows them to be worn outside and the split sole allows the foot to be pointed easily. They have a hard toe casing that allows dancers to stand on pointe for brief amounts of time and provide excellent ankle support. If the foot shifts too much in the shoe when rising on pointe, try a smaller size. Jazz trainers obviously have a heavier design than shoes, but can enhance certain choreography such as street, funk and hip-hop.
Budget
If limited in the amount of pennies you have to spend, purchase a simply designed, all round jazz shoe that you can use for class and performing. Leather is generally longer lasting and will save you money in the long term. If you are beginner, canvas is an inexpensive option providing a good fit, or you may wish to purchase second hand shoes. Many dance schools offer a facility to buy and sell used shoes. This can be a good option for growing feet, just make sure you find a comfortable fit.
There are so many styles and brands on the market, so it is important to choose a pair that will suit your needs for as long as possible. Decide whether your shoes will be used for performance, class or both. Adjust your budget according to the amount of use your jazz shoes will receive and don't leave the store without knowing your shoes are a perfect fit.
You might also like...