The History of Jazz Dancing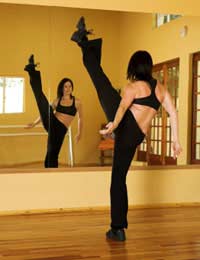 The history of jazz dancing is extremely unique in that it has developed through the influence of several other dance styles and techniques. It grew up alongside the American jazz music tradition and like jazz music, has its roots in African and slave traditions. Later, though, it became entwined with tap, Minstrel shows, vaudeville, swing, and Broadway. As a result, the movements and styles associated with jazz dancing have been constantly changing over the decades.
The Early 20th Century
On the journey to America, slaves in the 1800s were allowed to dance in order to keep fit. These dances continued on the plantations in the American South.
In the early 1900s, as black Americans became the forerunners of the jazz movement; jazz dancing was very closely related to tap dancing. In fact, a jazz or tap dancer was traditionally part of a jazz band, and these dance trends soon spread to the audience and the public. The result was dances like the Charleston, Jitterbug, Boogie Woogie, and swing. One of the most popular and influential dancers of the vaudeville era was Joe Frisco. Frisco's dance was a series of shuffles, camel walks, and turns, and he incorporated stand-up comedy into his act. He was known for his unmistakable stuttering voice, his Derby hat, and a big cigar. He appeared in the Ziegfeld Follies in 1918 and was a staple of the American vaudeville scene.
Theatrical Jazz: Cole, Robbins and Fosse
Perhaps the greatest influence on jazz dance as we know it was Jack Cole. Born in 1911, Cole was a choreographer and theatre director and is known today as 'the father of jazz dance'. He is credited with developing the ballet-based movements and theatrical expression which are the touchstones of contemporary jazz dancing.
Cole's 'theatre dancing' appeared in his musicals (including 'A Funny Thing Happened on the Way to the Forum', 'Kismet', and 'Man of La Mancha') and films (including 'Gentlemen Prefer Blondes' and' There's No Business Like Show Business'). In Hollywood, he was famous for his work with Rita Hayworth and Marilyn Monroe. His work influenced the next generation of choreographers in theatre and film and his style is still very present today.
Among those influenced by Cole's work were Jerome Robbins and Bob Fosse. A student of ballet and theatre, Robbins began his career in the chorus line of Broadway musicals. He worked constantly throughout his life, splitting his time between choreographing ballet and conceiving, directing, and choreographing musicals. During his career, he collaborated with George Balanchine, Stephen Sondheim, Ethel Merman, and Barbara Streisand, to name a few. His crowning achievement was 'West Side Story', which he created together with Sondheim. He went on to become the ballet master of the New York City Ballet in 1972. Robbins' ability to fuse balletic and theatrical movement made his choreographic style artistically and commercially explosive.
Similarly, Bob Fosse's influence on jazz dance throughout the second half of the twentieth century is extremely distinctive. Unable to conform as a young dancer to the rigid positions of ballet, Fosse incorporated inward turned knees, hunched shoulders and burlesque-inspired sensuality into his choreography. He worked tirelessly as a film and theatre choreographer, director and writer and became known for his use of bowler hats, canes and chairs. Some of his most noted works include 'The Pajama Game', 'Sweet Charity', 'Cabaret', 'Damn Yankees', and 'Chicago'. In 1999, the musical 'Fosse', based on Fosse's own life and choreography, won the Tony Award for Best Musical.
Past Meets Present
Today's jazz styles range from those slinky Broadway-inspired movements, to a more lyrical or balletic style, to include even hip-hop based video dance, which takes influences from street dance techniques. Basic jazz technique is still based on the mastery of turns, leaps, kicks, and fluid style, but every jazz class and jazz teacher is unique. While some may favour the theatrical end of the spectrum, others may opt for harder and faster movements that combine hip hop moves with traditional jazz steps. However, jazz dance continues to be a genre which can vary according to contemporary trends, while maintaining a strong and consistent foundation.
You might also like...
This Helped Me With Studying For A Final Exam IN Under 30 Min
babyalyse
- 23-Jan-18 @ 11:08 PM
need some help ? could anyone help me please ?
jess
- 11-May-13 @ 7:48 PM