Choosing the Right Ballet Shoes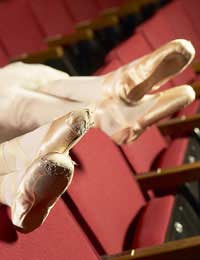 The amount of work your feet do as a ballet dancer means that you have a responsibility to choose your shoes with care. Whether you are in the market for soft shoes or pointe shoes, fit, durability and flexibility are key. Always be sure to speak to your teacher before making a purchase, and to show him or her the shoes you've chosen, before sewing on the ribbons or elastic.
Soft Shoes
For beginners, male dancers, and women who take class off pointe, choosing the right soft ballet shoes is important to building proper technique and dancing comfortably. First, think about material. Soft shoes are available mainly in leather or canvas. While leather is more lasting and durable, canvas shoes allow the foot to feel more contact with the floor through the shoe. Be sure to ask your teacher for his or her recommendation and try on shoes of both kinds to determine which you prefer.
The other choice you have when it comes to soft shoes is a full sole versus a split sole. Generally, a full sole is recommended for the more elementary level dancer, as the suede bottom will extend the length of the shoe, providing more arch support and promoting a pointed foot. Split soles allow more flexibility in the foot, and for the experienced dancer, will be easier to break in quickly.
Many people struggle with determining the proper fit for their soft ballet shoes. The shoe should hug the foot like a glove, as any extra space will make precision in your dancing impossible. Also, it is important for your teacher to be able to see the shape of your foot during class. However, many students, after hearing from their teachers that the shoe must be fitted, choose shoes that are too tight. Though your soft shoes will stretch and mold to your feet, you must be aware that if your toes are scrunched together or if the shoes cause pain when you try them, they may never stretch enough to become comfortable. Choose a pair which feels snug without feeling painful. This way you won't have extra fabric to contend with, but you will be comfortable while dancing.
Pointe Shoes
Choosing a pair of pointe shoes is an extremely difficult process and, ultimately, a big investment. Not only are pointe shoes more costly than soft shoes, but there is even less room for error in choosing them since the wrong pair might harm your feet in the long term. When looking to buy pointe shoes, ask your teacher to speak with you at length. Ideally, he or she would come with you to try shoes on, but if not, make sure you bring your shoes in to be approved before dancing in them or sewing on accessories.
When you buy your pointe shoes, try to choose a shop where the salesperson is experienced and knowledgeable. This can make the process much easier. Know what fabrics and colours your teacher or company prefers. Also, decide if you'll need to wear any cushioning, such as lambs wool or gel pads, as you'll want to use it when fitting your shoes. Because the size of your foot can vary depending on time of day and movement, try to go shopping in the afternoon, when your foot is at its largest, and be sure to test the shoes both in flat feet and on pointe. Doing plies and releves is a good way to feel how your foot moves inside the shoe.
When trying on a pair of shoes, first examine them on flat foot. If the box (the actual toe) looks wrinkled or stretched, you may need a wider width. However, if you can fit a finger between the top of the shoe and the foot, you probably require a box that is narrower. Your toes should reach to the end of the box, but should not feel crushed (…that comes later!). The size of the shank is also a consideration. Generally, a medium shank is recommended for beginners on pointe, but those who are muscular or have high arches should go for a stronger shank, as their feet are more likely to be weak than those with low arches.
Above all, be sure you know your feet – including their natural shape and any idiosyncrasies. No two dancers' feet are alike, so it is crucial that you find the pair that best supports your own feet. Your shoes will play a major part in the way you develop as a dancer, particularly if you are still young, so finding the right shoes now will mean a longer and more exciting future in dance!
You might also like...