When to Move to Pointe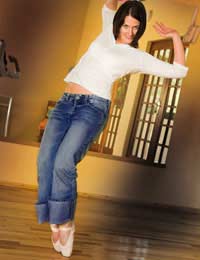 Most little girls dream longingly of the day when they can trade in their floppy ballet slippers for a pair of shiny satin pointe shoes. But just how long should they wait? A great deal of controversy surrounds the accepted age at which young dancers should begin to train en pointe. Though many rigorous ballet schools say girls can be ready as early as nine years old, other teachers ask that students wait until age fifteen or sixteen. Still others say age does not matter as much as training. To make an educated decision about when to make the move for your daughter, student or yourself, it is important to think carefully about each of the contributing factors.
Age and Bone Structure
On average, most ballet schools put students en pointe between 10 and 13. But many teachers and doctors argue that the age at which a young girl's feet can handle the stress of pointe depends upon her bone growth. This is because it takes many years for the cartilage in a child's foot to turn to bone. Putting a girl on pointe prematurely puts her at risk for injury and extreme discomfort later in life since the cartilage in the foot is weak and malleable.
In Celia Sparger's book, "Anatomy and the Ballet", she presents X-rays of the foot at ages 4, 11, and 19. The pictures show that at the younger ages, there is space between the foot bones and the toes, where the bone has yet to form. By 19, the gaps are almost entirely gone. This is not to say that students must wait until 19 to begin pointe training. Still, generally speaking, it can be dangerous to allow a dancer to go up before she has had her growth spurt and hit puberty. The body is said to need time to adjust to the hormonal changes and the redistribution of weight before extra stress is put upon the feet. Though it varies from girl to girl, these adjustments in the body are not generally made before age 12.
Technique and Training
However, age alone is not enough guidance to determine whether or not a girl is ready to begin en pointe. If her feet and body have not had the appropriate training in ballet, she won't have the required strength to dance en pointe and she will be in danger of injuring herself by doing something incorrectly. Most schools advise that students have three years of training and at least two or three ballet classes a week when they move to pointe. It is important that the student have a straight and strong shape to the foot when pointed with no sickling in either direction. Several ballet classes a week ensure that the student is receiving corrections and perfecting her technique. Here are some of the other requirements set forth by many studios and schools before a student may move to pointe:
Students must be able to hold turnout while dancing, which is a sign of good strength.
Students must have a strong straight back while dancing; especially the lower back. This is essential for balance and turns.
Students must be able to keep the heels forward, as the most stable position en pointe is when weight is carried over the big toe
Students must use plié when dancing, as this is how the dancer gets en pointe
Students must point their feet while dancing, as this builds the necessary muscles to dance en pointe
Students must be able to pique passé on a straight leg, as this will be even more difficult once en pointe
Students must be able to do 16 relevés at centre without stopping, as this proves strength in the calf muscles
Students must be able to hold the passé position on half pointe, as this position is more difficult to correct on full pointe
Students must be in good health and of a normal weight
Students must be attentive and prepared in class
Students must have enough of an arched instep to balance en pointe
When making the decision to put a young student en pointe, parents and teachers must consult together. It is important to take into account all factors, including age, growth and training. If there is hesitation, remember that there is never any harm done by waiting an extra year or so. Your dancer might be disappointed, but you will be ensuring her strength, safety and longevity!
You might also like...