Finding Your Tap Shoes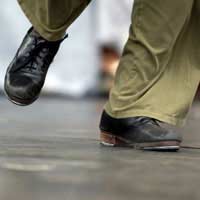 As any tap dancer can tell you, choosing a pair of tap shoes is no small matter. Your tap shoes directly affect your sounds and your movements, not to mention your feet! So before you buy, you need to be sure of exactly what you need. There are almost as many different kinds of tap shoes as there are tap dancers. Often the kind of dance you plan to do will determine which shoes are best. You also must consider how you will use your shoes – in other words, whether you need them for performance or for use in daily or weekly rehearsals and classes.
Budget
Before you start, choose your budget. You could spend anything from £10 to £70 on a pair of tap shoes. To begin with, you must decide if you want a plastic, canvas, or leather upper. Plastics are the least lasting but the cheapest; canvas is the most flexible; leathers need to be broken in but last the longest and are of the highest quality. Once you've determined your price range, you can consider which kind of shoe is right for your needs.
Height
It is important to determine your desired heel height. Tap shoes are available with low, medium (Cuban), or high (New Yorker) heels and you should be sure to consider your level and your comfort. You should also consult with your teacher upon making your decision. Low heels are suitable for dancers of all ages and levels (particularly, for all male dancers.) Cuban heels are generally recommended for teen dancers or older, while very high heels should only be used for show purposes and not for everyday use. While low heels tend to be the easiest and perhaps most comfortable to dance in, a higher heel can often help young female dancers develop the habit of keeping their weight forward and off their heels. They can also create a sleek and feminine look for performances.
Style
If your teacher or studio does not require uniform shoes for all dancers, then you have several choices in terms of style. Tie tap style shoes are often popular for younger or beginner level dancers. One of the most popular styles among both beginners and professionals is the Oxford, a lace-up shoe with leather uppers. Similarly, spectator tap shoes provide good support and a strong sound. Some advanced dancers may prefer split-sole tap shoes. These shoes allow for more movement of the foot, but are generally better for jazz tap than for rhythm tap, since they provide less foot support for heel and toe stands and create a softer sound. Tap trainers look like jazz trainers with taps on the sole and provide a casual look for performance, though some dancers find them too bulky for class work. Character shoes, or high heeled taps, are often used in musical theatre, but have seen a comeback in recent years by professional female tappers.
Taps
Depending upon your level as a tapper, you may want to choose your own taps. For beginners, any standard aluminum tap will usually do and most shoes come already fitted with taps. The most popular taps among dancers tend to be Teletones, which allow the dancer to tighten and loosen the screws to adjust the sound. However, different taps are available from a variety of companies and the advanced tap dancer must experiment and talk to other dancers to find out which will suit his or her needs best. If you are buying your taps separately, you must be sure that they are the right size. Also, it is usually best to have a cobbler to help you fit the taps to the shoes.
Size
Your tap shoes should fit you comfortably; though perhaps feel slightly smaller than a normal shoe. If your tap shoes are too loose, you will have less control over the sounds you are making and it will become more difficult to execute advanced tap steps. Be sure to try on several sizes and brands to ensure that your shoes are right for you. If you plan to buy your shoes online, it is still necessary that you go to a shop first to try shoes on. Once you are certain of the size and style you need, you can purchase your shoes via the internet or a catalogue. Still, you may find that the employees of your local dance shop are helpful and can provide advice based on personal experience or customer feedback.
The most important thing to remember, whether you are buying your first pair of tap shoes or your fifth, is that your shoes must be suited to your individual style and comfort. The kind of dance you do, the number of hours you rehearse, and the way you want to grow as a dancer should be considered before you make a purchase. Be sure to talk to teachers, friends and even strangers if you are unsure and don't be afraid to try on lots of shoes until you find the pair that's right for you. It won't be long before you're out on the floor stomping and shuffling!
You might also like...
@Viv. Have you tried any of the second hand sites? Many of these sell items of very quality for very little. You can also buy teletone taps cheaply that can be removed and fitted to different shoes.
DanceTutors
- 9-Jan-15 @ 11:33 AM
Hi, I'm trying to find a pair of reasonably priced silver tap shoes size 1with teletone taps. I have been quoted £50.00 which I believe is rediculous for a 7 year old. Do you know of anywhere I can get these more cheaply, or somewhere I can get shoes without taps?