The History of Tap Dancing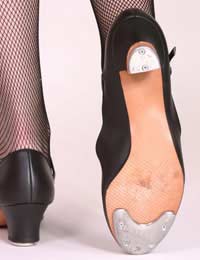 When we look back to the films of Fred Astaire and Gene Kelly or watch some of today's West End and Broadway musicals, it can be easy to forget the long history that precedes the tap dance tradition. It is also sometimes easily forgotten that today tap dance is still breaking boundaries and redefining itself as an art form. The strong historical roots of tap dance have given way to a wealth of styles to explore and stories to tell by way of the rhythm, sound, and power of human feet.
Early Beginnings
Tap dance is the fusion of several percussive art forms, including African drumming and tribal dances, Scottish, Irish, and English clog dances, jigs, and hornpipes. But it wasn't until these dances met one another in the United States that tap dance was born. Tap is thought to have begun in urban environments such as the Five Points District of New York City, where many cultures lived side-by-side in small neighbourhoods. Tap was first seen publicly in the 'minstrel show' sections of dance contests. These were slave-inspired dances, often performed in 'black face'. The contests, however, allowed dancers to learn from one another and copy each other's styles, thus the dance form grew and changed. Still, while early tap used percussive sound, taps did not appear on shoes until the 1920's.
Tap saw its first surge of popularity during the vaudeville era. As variety shows came to the forefront of the entertainment industry, tap dancers became the feature of many shows. Three types of tap emerged: Charleston, done by chorus lines, the buck-and-wing style of minstrel shows, and soft-shoe. Soon, tap found it's way to Broadway and later, to film. Dancers such as Fred Astaire, Bill 'Bojangles' Robinson, and the Berry Brothers became increasingly well known. Many dancers used the 'challenge' format in their dances, battling another dancer back and forth to show off their individual skills and tricks. Always pushing the art form further and raising the bar, each new dancer added a new flair or style. John Bubbles became the 'Father of Rhythm Tap'; Nick Condos of the Condos Brothers mastered a difficult step called the five-tap wing, and Clayton 'Peg Leg' Bates created his own style of tap after losing his leg at age 12.
Hitting a Wall...
Through the 30's and 40's, nightclubs were the home of tap. Also, when sound was added to film, talking pictures became a breeding ground for tap dancing. Although many African American performers were forerunners of the tap world, they were seen on stage and screen much less frequently than their white counterparts. Though 'Bojangles' had a long career on Broadway, many other black tappers never received the time or recognition they deserved. The colour barrier remained a problem for black dancers up until the 1960's and 70's.
Tap remained important through the Big Band and Jazz eras, since dancers performed alongside musicians helping to set the tempo. But in the 1950's, the popularity of tap declined. With the introduction of television, dancers could no longer rely upon the same five-minute act for each appearance. Many older dancers found work in burgeoning Las Vegas, but tap no longer attracted young audiences.
A Slow Rebirth
In the 1970's, several tap companies were formed (mostly by women) to perform on the college circuit and draw new audiences. Tap-based musicals like '42nd Street' found success on Broadway in the 1980's. Finally, the film Tap and the emergence of actor/dancer Gregory Hines put tap dance back on the radar. His style wowed audiences and got the public excited about tap dancing and its possibilities. Coupled with the appearance of Hines was the discovery of Savion Glover, who took over the part of 'The Tap Dance Kid' on Broadway in 1984 at 10 years old. Savion's talent was beyond impressive and by the time he reached his twenties, he had formed a new style of tap, which he called 'free-form hard core'. He created the Tony Award winning tap show, 'Bring in 'da Noise, Bring in 'da Funk', which told the story of tap's past and present. Savion's style influenced other young rhythm tappers and his emphasis upon improvisation inspired the resurgence of tap jams.
Still Going, Still Growing
Today, America is still the breeding ground for tap innovation. As the young dancers learn from the more seasoned, they inject the dancing with their own new steps and styles. Though it is less popular in most other places than in the U.S., tap has certainly become an international dance form. In the U.K, tap has a strong following. Though the U.K. tap style bears more resemblance to clogging and jigs, the American rhythm style is also practiced.
You might also like...