Rhythm Tap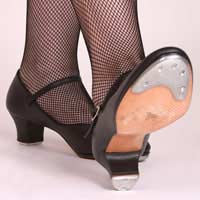 Originating in America, rhythm tap is tap dancing which focuses on the acoustic rather than the aesthetic. In other words, the emphasis is upon what the dancer says with his or her sounds rather than the way the dancer looks when executing those sounds. The term 'rhythm tap' is used to differentiate between this expressive style of dance and the Broadway or show style of tap. Rhythm tap often tends to be more grounded or banging, while show tap is lighter and uses more calculated movements of the arms and legs, as it is more closely linked to the ballet and jazz dance traditions. Rhythm tap, too, often incorporates choreographed movement of body parts other than the feet. However, it is the sounds that must always take centre stage.
History
Rhythm tap is closely related to the origins of tap itself. Springing out of the dancing of slaves in Southern America in the early twentieth century, rhythm tap has always remained true to a representation of the every day and an expression of something universally familiar. It remained separate from the high art associated with the Harlem Renaissance, though it shared close ties with jazz music as the rhythm tapper (or hoofer) often set the tempo for the band in American jazz clubs. Although hoofers were rarely aiming for a clear narrative in their dances, they always sought to tell a story. They communicated with audience members and musicians using sound and as a result, improvisation was a crucial skill. Dancers such as John Bubbles and 'Bojangles' Robinson were the pioneers of rhythm tap as we know it today. However, after the Second World War, tap fell to the wayside.
The Resurgence of Rhythm
Rhythm tap resurfaced in the 1980's when Gregory Hines and a young Savion Glover reintroduced tap to popular culture. Hines, an actor, director, and choreographer, had both finesse and grace, making him commercially successful as a dancer. His feet, though, were the thing really worth watching and people slowly began to take notice. Glover, on the other hand, sprang onto the scene at only ten years old, starring on Broadway as 'The Tap Dance Kid'. By his teens, however, his urban look and his laid back style had given way to an incredible and unique talent. Glover's 'hard core' style of tapping, which featured rapid, changing, and complex rhythms, spread to other young dancers. When his own creation 'Bring in 'da Noise, Bring in 'da Funk' became a Tony-award winner on Broadway in the 1990's, rhythm tap finally began to receive the international attention it deserved.
Hoofing in the 21st Century
Since that time, Glover and his peers and contemporaries have continued to work tirelessly to highlight rhythm tap as an artistically challenging and commercially viable dance form. Though very few dancers are able to make a living as hoofers, companies and events, or jams, throughout America and beyond remain dedicated to sound, rhythm, and individuality as integral elements of tap dancing. Today, dancers who study rhythm tap quickly find that thinking on their feet is just as important as dancing on them. Improvisation continues to give rhythm tap much of its vitality, as tap jams often unite dancers, musicians, and spectators. Both choreographed and improvised rhythm tap operates outside musical boundaries, simultaneously creating and utilizing music and beats. Rhythm tapping might be coupled with any genre of music or instrument and is often performed a cappella. As a result, it remains one of dance's most interesting and versatile facets, erasing the lines between dancer and audience or performance and rehearsal.
You might also like...