Gymnastic Dancing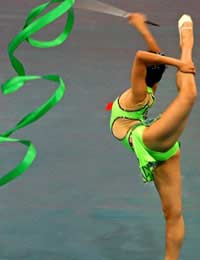 Rhythmic gymnastics is a sport combining the grace of ballet and the flexibility of gymnastics, whilst skilfully manipulating apparatus: rope, hoop, ball, clubs and ribbon. Routines are performed to music and combine a variety of leaps, pivots and balances whilst keeping the apparatus in constant motion. It is an internationally recognised sport whereby individuals and groups perform routines before a panel of judges, who evaluate them according to difficulty, artistry and technicality. Unlike mainstream gymnastics, rhythmic gymnastics does not demonstrate acrobatic ability, focusing on coordination, flexibility and fluid manipulation of the body and apparatus to musical accompaniment.
Rope
The rope is made from hemp or synthetic material that maintains suppleness and lightness and length differs for each individual. When standing on the rope with one foot it should come up to the gymnasts shoulder. Knots at each end provide handling points for throwing, catching, winding and whirling, which are incorporated into a series of jumps and leaps. As the rope is a slack apparatus, it can be difficult to handle. Its movements should be uninterrupted and maintain a clear pattern.
Hoop
The hoop is 80-90cm in diameter and may be plastic or wood. It is rotated around the hand and body to perform rolls, swings, throws and catches. Gymnasts move through and around the shape of the hoop using the entire body, manipulating the apparatus whilst travelling around the floor.
Ball
The ball is made from rubber or synthetic material and is 18-20cm in diameter. Gripping is not allowed, which encourages fluid movement throughout the routine. A harmonious relationship exists between the body and the apparatus as it is kept in constant motion as it is thrown, bounced and caught with control and precision.
Clubs
Clubs are 40-50cm long, are made from wood or plastic and consist of three parts; the body (small spherical part), the neck and the head (bulbous part). Gymnasts perform a series of swings, mills, twists and throws and include many asymmetrical movements. They are controlled by one or both hands and as there are two, require ultimate coordination.
Ribbon
A satin ribbon of at least 6 metres long is attached to a wooden or fibre glass stick and is manipulated to make patterns in the air. This discipline is an aesthetically beautiful one, as the ribbon is twirled into spirals whilst the gymnast pirouettes within, or thrown high into the air, creating spectacular rhythmic routines.
Rhythmic gymnasts perform on a floor space of 15 metres square, keeping themselves and their apparatus within this space at all times. They are judged to a possible score of 20 on technical execution and artistic quality.
Gymnasts display high levels of precision, coordination, flexibility and artistry. As an Olympic sport, professional gymnasts train rigorously to perfect their skills, as there is little room for error. The end result is a seemingly effortless and harmonious relationship between the gymnast and the apparatus, as an extension of themselves. Artistic, complex choreography, musical expression and amazing feats of flexibility define rhythmic gymnastics from the traditional acrobatic type, making it a favourite with spectators the world over.
You might also like...