Pilates and Dancing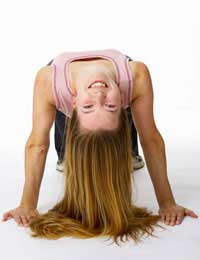 Pilates is a fluid low impact system of exercise that works to strengthen and lengthen the muscles without adding bulk to the body. It involves a series of movements, some performed with the help of resistance equipment that improve core control, strengthen the inner abdominals and improve flexibility. Pilates works to the rhythm of the breath, making it a complete mind/body workout, promoting a slender, toned body shape. Whilst anyone can practice Pilates for overall health improvement, dancers have experienced the benefits for decades.
History
Joseph Pilates developed the system in the 1920's, and treated patients in the First World War by rigging up resistance equipment to hospital beds. In 1926, Joseph Pilates moved to New York with his wife, Clara, and opened up a studio near the New York City Ballet. Soon he had drawn a following with dancers who took to Pilates for its ability to create long, lean muscles and a strong, streamlined physique.
Principles of Pilates
There are several principles outlining the practice of Pilates:
Control/Precision- Pilates encourages clean, precise, quality movement
Stabilisation- The body is safely stabilised before performing the postures.
Centering- Encourages mental focus which calm the mind. All movement is initiated from the trunk, and radiates outwards to the limbs.
Breathing- All movements are integrated with deep diaphragmatic breathing
Alignment- The body is aligned from the head, neck and spine right through to the toes.
Fluidity- All exercises are performed in a fluid, continuous style, rather than focusing on repetition.
Integration- All muscle groups are integrated into the work out, supported by the core.
Benefits for Dancers
Pilates is particularly beneficial for dancers to strengthen the inner abdominals, and create a streamlined body shape. Dancers will be able to lengthen the muscles and develop ultimate core control without bulking. Through developing the inner abdominal muscles, strain on the back is minimised and injuries are prevented. The fluid nature of Pilates practice promotes economy of movement, and can be incorporated easily into a dancer's training regime as an overall mind/body workout. Dancers recovering from injury can incorporate Pilates into their rehabilitation, due to the no to low impact on the body's joints and muscles. Muscles are strengthened through gentle resistance movement, either using the body's natural resistance on the floor mat, or with the help of specially designed machinery.
Pilates and Back Pain
Whilst Pilates works to strengthen all the muscle groups evenly, it focuses on the inner abdominals that support the spine which is particularly beneficial to dancers suffering back pain. Many dancers neglect these muscles in their training regime, and it takes special attention to locate and strengthen this area which is crucial to a strong core. Many dancers report a renewed strength and less back pain. Pilates provides dancers with tools that they can carry into everyday life- a method of improving posture and moving efficiently that keeps the entire body flexible and toned.
Pilates is for Everyone
Dancers of all levels can benefit from Pilates practice, as you can progress from beginner level to advanced. Regular practice will ensure all over body strength, and long supple muscles to improve your dance ability, as well as strengthen the inner core for ultimate control. Dancers of all ages and ability practice Pilates to assist their dance skills and improve their overall health.
You might also like...