Yoga and Dancing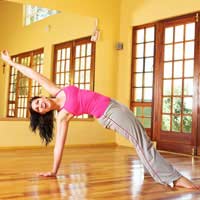 In addition to being a hot fitness trend in recent years, yoga has a long tradition of helping its devotees achieve higher levels of mental and physical health. Because of its versatility, yoga can serve as a useful compliment to a dance regimen, helping dancers improve flexibility, strength, turnout, energy and relaxation.
Yoga vs. Dance
For many dancers, the attraction of yoga is that it both shares many of the concepts associated with dance training, but that it also departs from many of those concepts. For instance, many styles of yoga rely upon a set of poses and positions that build strength and agility and many yoga classes are structured in a way that might feel almost choreographed. The difference, however, lies in the fact that yoga focuses on the internal, while the goal of dance is external and aesthetic. In other words, a dancer has to look good, while in yoga the person has to feel good. For this reason, many dancers find yoga to be a welcome change and an opportunity to focus on their own health and well-being.
Choosing a Style
Some styles of yoga might prove more appropriate for a particular kind of dancer. For instance, ballet dancers might want relieve stress on their joints and muscles and therefore might choose kundalini or viniyoga. However, jazz or hip hop dancers might want to increase strength and endurance and might be better suited to more intense yoga styles, such as bikram or ahtanga yoga.
There are dozens of different yoga styles and dancers should research several in order to determine which will best compliment the other physical demands placed on their body by dance and everyday life. You must also decide whether you would like to undertake yoga as a mental and spiritual journey, as well as a physical one. Many styles of yoga include spiritual chants and exercises that help one to feel more centered and enlightened.
Guidelines
As a dancer, you want to ensure that you are always making healthy decisions and taking good care of your body. Therefore, when practicing yoga, you should remember the following things:
Do not continue any movement that causes you discomfort or pain
Check with your doctor and teachers before starting yoga
Avoid yoga if you are injured, unless you've consulted your doctor
Avoid comparing yourself with anyone else; yoga is about celebrating your individuality and working with your own strengths and weaknesses
Don't give up; practice yoga regularly to see real results
Remember to always keep breathing
Think of yoga as a treat for your body and a break from the usual strenuousness of rehearsals and performances
Benefits
Dancers who practice yoga often find that there are countless physical benefits. For one, the strengthened muscles and increased flexibility helps to prevent injury. The breathing exercises associated with yoga improve lung capacity, and therefore allow the dancer to maintain a higher energy level when dancing.
The positions which one maintains in yoga improve posture, as well as balance. This is especially important for those who study more rigid forms of dance, such as ballet. Yoga's concentration on flow often improves the body's circulation and the mind's clarity. Many dancers enjoy improved mobility and flexibility in the hips and other joints as a result of practicing yoga. And in addition to the many physical benefits, dancers who perform regularly may find that yoga improves stage presence and reduces performance jitters.
You might also like...