Krumping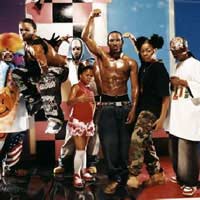 In the same way B-boying (breakdance) defined underground urban culture in the 1970's and 80's 'Krumping', the latest movement in urban dance, is slowly becoming embedded within the physical vocabulary of urban communities and youths. Beginning in the South Central section of Los Angeles Krumping is a street dance form that is defined by its intense energy, its expressiveness, and an undertone of aggression. It often involves physical contact between dancers, but is considered an alternative form of releasing anger and frustration.
Krumping vs. Clowning
The terms 'Krumping' and 'Clowning' are sometimes used interchangeably. However, these are two separate dance forms. They share a connection in their origins and some of their techniques, but Clowning might be described as less aggressive or intense than Krumping. Though Clowning does not share Krumping's connection to anger, the two styles do share a similar system of movement. Both dances are characterised by the rapid gyration and jerking of the body and both use the 'krump', or a flexing of the spine and thrusting of the chest. Also, they both originated with Tommy the Clown. As a young man in L.A., Tommy decided to turn around a life of trouble and crime by earning an honest living in the 1990's. When a co-worker asked Tommy to perform at a child's birthday party, Tommy obliged, and entertained the children with a mix of comedy and dance. Tommy's unique and engaging dance style captured the attention of many and his following began to grow. To accommodate his fans, Tommy started a clowning crew (the Hip Hop clowns) and based on their success, encouraged others to start crews as well. The rules of clowning were: no drugs, do well in school, and be a positive role model. Clowners often wear face paint, as did early Krumpers. However, Krumping was something of a departure from Clowning.
Krumpers recognise Clowning as a point of origin, but dismiss the use of jokes and disses. Instead, Krumping is seen strictly as a dance form and emphasises the expression of pent up anger, more dramatic movements, and individuality. However, both Krumpers and Clowners can be seen at Tommy's annual dance competition, Battle Zone. Battle Zone was created as a peaceful solution to the competitiveness that arose between clowning crews in the early days.
Krump Culture
Within the world of Krumping sits a well established hierarchy and system of learning. Groups of Krumpers are known as families or 'fams'. Each is organised around a more experienced Krumper, called the 'big homie'. The 'big homie' serves not only as a dance instructor to the rest of the family, but as a mentor as well. The 'big homies' then take on 'lil' homies', or younger, less experienced dancers, who will learn from the big homie and slowly advance. The lil' homies share the name of the big homie; for instance, the famous Krumper, Tight Eyes, is followed by Junior Eyes, Baby Eyes, Soldier Eyes, Young Eyes, etc. The big homie decides on the hierarchy and terms of progression within the family that will be abided by.
Changing With the Times
Krumpers sometimes experiment with outfits and music outside the general hip hop trends. For instance, they might turn to classical, Celtic, or Asian pop music. Many of these recent artistic innovations in Krumping, however, have been the work of professional companies. Many inner city Krumpers question the authenticity of these companies and practices, which are known collectively as 'Monster Krump'.
Still, there is no denying that culture of Krumping has begun to make its way into the pop culture realm. Krumping received its major introduction to the world courtesy of David LaChapelle's film, RIZE, though the film was made when Krumping and Clowning still heavily overlapped. Also, Krumping can be seen in music videos by Madonna, Missy Elliot, Chris Brown, and the Pussycat Dolls. Like many street dance styles, Krumping is currently growing and changing as it becomes more publicly visible. However, despite the strong push to commercialise the Krump style, it also continues to grow within the communities where it originated and therefore, will continue to be celebrated in its pure form.
You might also like...
hi i am a person who is looking for some street dancing lessons on my own and i love the film Street Dance2
georgia
- 4-Feb-13 @ 1:12 PM