What is Uprocking?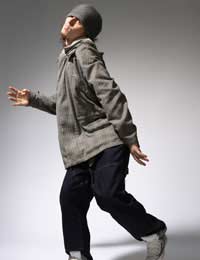 Uprocking is a unique form of street dance that is done to soul and funk music. Often confused as part of the breakdancing movement, uprocking developed separately, though it was later adapted as part of B-Boy and B-Girl (breakdance) routines. A combination of freestyle, 'jerks', and 'burns', it's a strongly competitive and passionate dance. Though its popularity has fluctuated over the past several decades, it's managed to stay true to the spirit of its early days.
History: To Bushwick and Beyond
Uprocking can be traced back to the Bushwick section of Brooklyn, between 1967 and 1968. Amongst the prevalence of neighbourhood street gangs, two men, "Rubberband Man" and "Apache" decided to shift their focus from a dangerous circle of friends to their passion for dance. Often seen dancing on street corners, they borrowed steps from Fred Astaire, Gene Kelly, Salsa, and later, the Hustle to create a style of dance that featured foot shuffles, turns, spins, freestyle movements, sudden body 'jerks', and hand gestures, later known as 'burns'. As the dance was centred around a battle stance, one dancer facing another, jerks and burns functioned as faux-fighting gestures and added to the competitive nature of the dance. Slowly, the dance became popular throughout local gangs and was often used as a means of settling dispute.
By the early 1970's, Uprocking had spread beyond gangs and found its way into popular culture. Before this time, the dance had been known simply as 'Rocking'. But as it reached a larger cross-section of youths, 'Rock competitions' were often confused for music contests. Soon, 'Uprocking' became the accepted term. 'Crazy Rob' organised the first competition and Uprocking crews sprung up throughout the area. Stakes in competition were high, with prizes including money, women, bragging rights, and the colours or shirts of your crew. In 1980, Brooklyn held a contest for the title of 'King Uprock'. All the crews attended and the battle was won by Ralph Casanova, still known today as King Uprock.
The Dance and the Battle
Unlike breakdancing, Uprocking is performed for the entirety of a song, rather than only during the dance break. The dance itself focuses mostly on free styling and exhibiting an intimate knowledge of the music. Movements should always sync up with the style and nuances of the song. During breaks in the music or lyrics, 'jerks' and 'burns' are executed. Though a burn often imitates a violent or threatening action, no physical contact is allowed and an experienced dancer knows this.
While many other dance battles happen in a circle, Uprocking competitions take place in a formation called the Apache Line. In the Apache Line, two opposing groups or individuals face each other and battle. A Rocker might be tapped on the shoulder by another Rocker to allow for a new member to participate in the confrontation. When two opposing crews battle, the Rockers must stay in the line, but can keep the line moving to alternate who battles whom. The Rocker or crew who uses the music best wins the battle. Apache Lines are also used to initiate new Uprockers into a group. The new member must battle everyone in the line.
The Ups and Downs
In the mid-80's, breaking crews started to gain popularity with the young generation and B-boys soon began to outnumber Uprockers. The original Uprockers were settling into professional and family lives, or else learning to break. As a result, Uprocking became more obsolete. Uprocking still appeared, however, in modified form. 'Top Rocking' became incorporated into breakdance, but the original Uprock tradition became temporarily dormant.
In the 1990's however, a B-boy named Numbers began to seek out some of the original Uprockers and relearn their techniques. His search, which lasted several years, culminated when he was finally able to invite King Uprock to a B-boy competition in Florida. King Uprock's appearance sparked a newfound interest in Uprocking and slowly, groups formed nationally and internationally which were dedicated to the preservation and instruction of the dance form.
You might also like...