Locking, Street Dance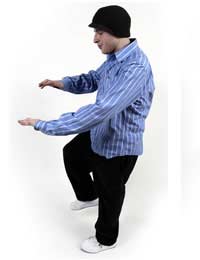 Locking is a street dance style which was conceived in America in the late 60's by one man, Don Campbell. He introduced the move 'the lock', upon which the dance style of 'Campbellocking' was based, and created a sub-culture that has continued to this day.
Emphasis on Performance
Today Locking is performed internationally, with the style based on several key moves carried out with an emphasis on performance and crowd acknowledgement. Distinct, fast hand movements are combined with more relaxed hip and leg movements, performed in sync with funk music. Pauses in the music are emphasised by distinct stops in the movement, and dancers often smile or gesture to the crowd to create a comical style, or take on a serious demeanour to show off technique. Locking is often associated with styles such as Popping, Breaking and Hip-hop, which it has influenced, however remains a distinct style that is very much centred around history and tradition.
The style of Locking has undergone a few changes over the years; however it is still performed with an exaggerated comical style, and dancers dress to enhance this, in bright colours and hats. Dancers perform key moves like wrist twirls at a rapid pace, contrasting with dramatic pauses, locks, or dropping into the splits. They often high five and point, which creates interaction with the crowd and other dancers. Today, dancers still perform the original moves developed in the 70's by Don Campbell and his first group, The Lockers. Although the style was born from Campbell's move 'the lock', more moves were introduced during the early stages of the dance craze that have remained an integral part of the style.
Moves
The original lockers took direction from Campbell and developed their own signature moves, stamping them with unique names in order to lay claim to creating them. Locking is really a style you have to see to understand, but here are a few moves unique to the style:
Box split -A semi-split done with one leg bent, which enables the dancer to get up again in one swift movement.
Wrist twirl -Twirling wrists while moving arms up and down in pace.
Lock -Bending slightly forward with arms forming a circle downward, as if lifting a heavy object.
Uncle Sam points -A quick, extended pointing gesture, usually held for a few seconds for emphasis
Knee Drop- Drop to the knees with knees pointing inwards
Crazy horse -Altering kicks to the sides with right and left legs, upper body stationary with arms in front as if holding reins.
Hop kick -A high, quick kick of one leg while standing straight on the other.
Scootbot -Skipping while making the motion of an exaggerated step to the left or right.
Which way -Similar to the scootbot, with a more kicking motion and without the skip.
Stomp the cockroach -Going down on one knee, with the other leg pointing out to the side, then pounding the floor.
Scooby doo -Taking a stationary forward step, then making a Lock
Scooby walk -Walking forward, stopping and bending knees outward with each step
Stop-and-go -Taking a step back and to the left/right, then forward again.
Movements are performed quickly, contrasted with freezes in the splits, or locks, and dancers often incorporate mime into the routine to enhance their comical appeal. Locking has become a popular form of street dance performed by people from all over the world- what began as an expression of soul and brotherhood amongst a small group of Americans in the 70's has developed into the widely popular, hugely entertaining dance form, we know today, requiring mastery and skill.
The style of locking has come a long way from the dance floors of LA, and is now a division of the international street dance competition, Juste Debout, meaning 'just upright', referring to the commonality of upright movement between the styles showcased- locking, house, popping and hip-hop new style. Locking is performed in groups of two, and pairs 'battle' each other to music chosen by the DJ. The first competition was held in Paris in 2002, and is held annually, providing a great platform for the expression and development of the style.
You might also like...
I really like the website but i think it might need more information and it has not enough imformation.
jo jo
- 16-May-19 @ 6:48 PM
I think that i dont mind this web but it needs mor imformation.
shan
- 16-May-19 @ 6:45 PM
i love dance, both i want to learn some mover like body popping and break dance
dre
- 23-Nov-12 @ 3:03 PM
I adore street dance! Once I saw step up, I just loved it but I'm from this little town and there aren't many community centres, where we could get a dancer into teach a load of people.
Neady Babiee
- 17-Mar-11 @ 11:39 AM