Choosing Classes and Levels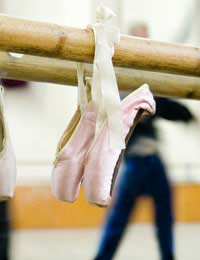 Perhaps you're sitting idly on your bedroom floor schedule clutched tightly in your fist. Perhaps your staring blankly at the computer screen. Or maybe you're standing bewildered in the foyer of the studio. Wherever you are, choosing which dance class to take can sometimes be a daunting and difficult process. Which teacher? Stretch class or yoga? Tap or flamenco? Advanced intermediate or intermediate advanced?! To help you sort through the difficulties, here's a simple five step method that will send you into class feeling confident!
Step 1: What Kind of Dance?
The first thing to determine is what kind of class, in general terms, you are interested in. Are you feeling graceful and lyrical? How about ballet? Maybe the new Justin Timberlake video has inspired you to take a street class. Or maybe you're ready for a change of pace and you want to try something completely new, like African dance or musical theatre. The point is, when you're looking at the classes your studio offers, don't be afraid to try whatever class strikes you. Once you work out loosely what kind of class you want, you can get into the specifics.
Step 2: Which Style?
Now that you've chosen a genre of dance, you have to zero in on which class you're interested in more specifically. If your studio is small, there may not be many options, in which case your decision is already made. But if there are several different versions of the same class, you'll need to make a choice. Oftentimes, it is impossible for an outsider to know the difference between 'Nu Flow' hip hop and 'Street Stylz'. That is to say, each studio has its own vocabulary that it uses to distinguish between classes. If you're not already familiar with the lingo, call up the reception desk and ask for some class descriptions. Choose the class that sounds most exciting to you, and if you still feel unsure, remember that it never hurts to try!
Step 2: Which Level?
Most studios classify classes according to difficulty. If you're not quite sure where you stand (in other words, if you're not a complete beginner) consider this: there will almost always be someone who knows more than you and someone who knows less. If you want to play it safe, go for an elementary level class and enjoy being one of the more experienced students. If you fancy a challenge, go for a higher level than you normally might and remember that in the end, it will only make you a stronger dancer. In fact, sometimes being kicked around by a tough class is the best way to jumpstart your learning curve.
Step 4: Try It Out
Once you've put your finger on a style, a class, and a level (and barring any unforeseen dentist appointments), the time has come to give it a go! The only way to really know whether a class is what you're looking for is to take it. So pack up and get out there…
Step 5: Rinse and Repeat
Now having taken the class, you can be a much better judge of whether or not it's the kind of class you'd like to return to. If so, go back as many times as you like. But if not, return to steps 2 or 3. Maybe a different class or teacher would better suit your style. Maybe you'd like a class that moves more slowly, or else one that's more challenging. Use your new knowledge to help you choose a class you'll enjoy just as much, or even more, next time!
You might also like...