Finding a Dance Teacher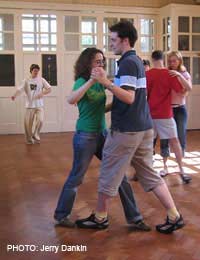 If you've ever set out to learn something new, then you know the importance of choosing just the right person to show you the ropes. As a dancer, finding the right teacher (or teachers) is very probably the most important decision you will make. It is your teacher's skills and style that you will have to draw upon as you seek to learn and grow each week, so you'll want to choose with care.
Where to Begin
If you've already decided upon a studio, your teacher may be chosen for you (if classes are few and are divided by skill or age). But if you chose a studio with open attendance or you're looking for a private instructor, then odds are you will be faced with some choices.
There are a few good ways to learn about a teacher. One is to talk to other people who take his or her class. Other students are likely to give you an honest account of what an instructor is like and how he or she structures the class. You can also arrange to meet informally with the teacher by chatting with him or her either before or after class. However, there is one method of finding a teacher that is by far the best: dancing with them! Hire them for one lesson, or ask to try out their most popular class. Taking class with an instructor is a surefire way of discovering if his or her personality and method of teaching suit you as a student.
What You Want
Different kinds of teachers suit different kinds of students, but there are some qualities you'll want to look for – particularly if you are just starting out. The first is a big one: respect. You want a teacher who both demands it and shows it. If it's a sizeable class, the instructor should be able to control the room, but without taking the fun out of the experience.
He or she should be prompt and reliable. Also, your teacher should always recognise that the style and level of individual dancers will vary and show sensitivity towards that variety. In other words, all students should receive equal attention and praise and criticism should be given out fairly. You should be aware though that realistically, not every teacher will be 'nice' all the time. Even the nicest teachers get frustrated and some teachers can be pretty harsh when it comes to pushing their students towards excellence. If this becomes the case, you must be sure that you are the kind of student that can take it, and if not, move on.
Though it may sound obvious, your teacher should be a good dancer. You want the person you learn from to be someone you trust and admire in terms of their skills; since these are the skills they will pass on to you. And finally, your teacher ought to be passionate about his or her job. The artistic nature of dance requires that you do it with purpose – whether that purpose is fun, expression or art. Your teacher should show a love for dance and should want to see that same love in you.
What You Don't Want
One of the most difficult things about the process of learning and improving as a dancer is leaving a teacher behind, but it is something that must sometimes be done. Whether a beloved childhood teacher no longer challenges you or your stubborn ballet master chides you instead of providing the help you need, you should always remember that even as part of a class, you are an individual and you have the freedom to seek out something better. If after you get to know an instructor, you find that his or her personality or teaching methods make you upset or uncomfortable, do not hesitate to try someone new. You will not thrive as a dancer in an environment that stifles you. This goes for circumstances in which you are not pushed to your full potential, you are not treated with the respect you deserve, or you do not feel recognised. Always remember that you are responsible for your dance education and making that switch is often the right decision.
Although finding a teacher can seem like a difficult task, once you've found one, they are likely to play a large role in your life. With the right combination of respect and compatibility, you'll be well on your way to a great student/teacher relationship and a stronger future in dance.
You might also like...
i am professional dancer. my style is MJ,BOLLYWOOD AND WESTERN DANCE i can do all the styles except kathak give me one chance to proof my self and allow me to join the dance group
kannu
- 5-Nov-19 @ 2:07 PM