Ballroom Shoes and Costume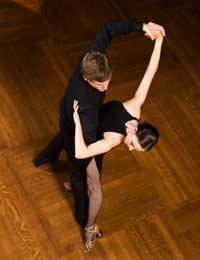 For many, learning to ballroom dance often culminates with the excitement of a performance or competition. But whether you plan to compete or not, it is important to understand how to choose the wardrobe that will help you look and dance your best. From the rehearsal room to the dance floor, your shoes and costume will affect the way you execute steps and interact with your partner.
Keeping your Feet on the Ground
As a beginner, it is not important to have a professional pair of ballroom shoes. What is important, though, is that the shoes you learn in are both well-fitting and safe. Ballroom shoes should be lightweight and snug. Your feet should not feel crushed, but there should not be any 'growing room'. In order to ensure a secure fit, men should wear shoes that lace-up, while women should opt for a T-strap or ankle strap. For women, it is a good idea to begin learning in a low heel. This way, you'll grow used to dancing in an elevated shoe, but you won't put yourself in danger of twisting your ankle or slipping. Once you are more advanced, you can gradually increase the height of the heel if you prefer a different look.
When it comes to the sole of the shoe, you must consider the type of floor you'll be dancing on. If and when you decide to invest in professional shoes, the soles will likely be suede. This will allow you to turn and glide on the floor without difficulty. For beginners, though, a suede sole might be too slippery, depending upon the room in which you rehearse. A jazz shoe or 'character shoe' is usually a good option for the less-experienced dancer. As with all dance shoes, be sure to try before you buy – ordering online or from the catalogue is always a big risk. And if you need further advice, your dance instructor is always a great place to start, as he or she will have lots of experience choosing shoes and advising students.
Dressing to the Nines
You will quickly learn that in lessons and rehearsals, light and form-fitting clothes are best. Cottons and lycras allow you to move with ease and let the heat from your body escape. Follow a similar set of rules when it comes to costume shopping. Since you want to showcase the dance as well as the body, remember that mobility and comfort come first.
The style of costume will rely heavily upon the type of dance you'll be performing. If the body stays generally stationary throughout the dance, the costume should look its best in the closed position. For dances like the Waltz or Foxtrot, women wear long flowing gowns made of feather or chiffon, while men often wear tuxedos since the jacket won't restrict the movement of the arms. However, for American-style or Latin dances, when more movement is required, both men and women tend to opt for something less restricting. Women wear shorter and flouncier skirts, while men choose stretchable fabrics for shirts and trousers.
If it is your first time costume shopping, your best bet is to ask your instructor to recommend a shop. Buying your costume from a fashion boutique or tailor is not usually a good idea. If you go somewhere that caters specifically to dancers, you can be sure that your costume will be made to accommodate your movements, both in cut and style. Be sure to coordinate costumes with your partner and once you've chosen them, dance in them before the day of the performance. You might find that dancing in the costume feels different than dancing in your rehearsal attire and you may wish to alter movements or counts to account for this.
At the end of the day, you want to look as good as you feel when you're dancing. With some shopping around and a bit of advice, you'll step out on to the floor in comfort and style!
You might also like...