The American Smooth Explained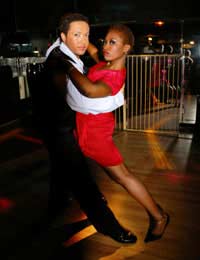 The American Smooth is decidedly glamorous, and anyone who has ever flicked onto TV's Strictly Come Dancing will have seen the more talented celebrities surpass their top scores while dancing it. This is because American Smooth incorporates several elements of different ballroom dances into one, beautiful and elegant dance. It is often associated with the music of Frank Sinatra and the dancing of Fred and Ginger. It exudes glamour from a time gone by and the outfits and hairstyles are suitable styled to match. It would be hard not to feel like a movie icon when dressed up and ready to dance the American Smooth.
Which Dances Does it Involve?
The American Smooth primarily includes elements of four different dances. These are the waltz, Viennese Waltz, Tango and Foxtrot. This is why sometimes, it can be difficult to categorise the American Smooth. Is it a waltz with a bit of tango? A fixture combing elements of the two waltzes? Or is it a true American Smooth, with elements taken from all four and blended so that a whole new, beautifully observed dance is formed?
Where is it From?
There's a clue in the name when asking where the American Smooth is from. Of course, it originated in the USA. At a time when Latin dances were becoming more and more popular across the world, something a little more exciting was needed to reintroduce people to the beauty of ballroom. But as society was becoming less staid, people, especially young people, wanted a dance where they could be a little less formal - the permanent body contact of traditional ballroom was seen as too structured. So, the American Smooth was born and young people began to fall in love with ballroom all over again.
The Dance Itself
The steps in American Smooth are often less complex than those in other ballroom dances, to ensure that people new to ballroom can master it. However, as stated above, the blending of different skills and types of dance does make a difference to how proficient someone looks when dancing the American Smooth.
The key difference in this dance is that all important fact that partners are not required to maintain continuous body contact. This means dancers are able to perform a vast range of moves and turns which are not open to other forms of ballroom. This allows greater freedom of expression, and a dance which is never boring, because of the increased number of moves there are available to dancers.
Music is often the same or similar as that which is used for its constituent parts. This means that virtually any type of ballroom music can be adapted to fit an American Smooth dance, as long as it is elegant enough to suit the dancers. Music with a fast beat will generally not work, as it is too fast for the footwork which is needed for the American Smooth. But again, as Strictly Come Dancing has shown, even modern, up-to-date music can be successfully used for ballroom dancing.
You might also like...