Ballroom Dancing Renaissance: the Impact of Reality TV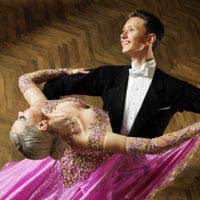 No-one can argue that reality TV has changed the way the public perceive dancing, especially if they are people who would not, under other circumstances, come into contact with dancing at all. And although many onlookers will and do attribute this shift in attitude to a 20th century rise in dancing TV shows, it is worth remembering that dancing on TV has a hugely illustrious history, dating all the way back to 1949 – the year Come Dancing was launched.
Come Dancing
Come Dancing started life as a TV show where dancers across the UK could show off their skills and also get advice from teachers, live on TV. It was an unadulterated hit. Everyone loved it and everyone loved dancing because of the show. And in 1953, the format was tweaked and it became a competition, with dancers hoping to hit the big time taking on one another in front of the whole country who were watching on TV. In fact, the show was such that, had been dreamt up today, it would surely have followed the same pattern as it did way back then but with the added benefit of technology and the introduction of viewer votes. Other than this, the format is exactly the same as we see in endless reality shows today. It was so successful that it ran until 1998, on and off. This paved the way for the behemoth of reality TV which was to come next and send a whole new generation into rhapsody over dance.
Strictly Come Dancing
Since the first docusoaps began to creep into the public consciousness back in the late nineties, reality TV has grabbed society by the scruff of its neck. As as well as spectacular successes, there have been spectacular flops. Strictly Come Dancing, or Strictly, as it is affectionately known, is no flop. From the moment it hit TV screens in 2004, it was a hit. The show took the concepts of Come Dancing and added in that most 21st century phenomenon – celebrity. As each celebrity is paired with a professional dancer, they have to win over the public to get their votes and stay in – with one couple being voted off each week. The format is now well known and has been exported to several other countries. But one of the biggest side effects has been the numbers of people enrolling in dance classes.
People have flocked to join in organised dancing thanks to the show. The fact that they can see the journey which the celebrities have undertaken and can see that anyone can learn to dance means that people from all walks of life are taking it up – and all because of Bruce Forsyth and Tess Daly and a bunch of random celebrities.
Other Programmes
The success of Strictly and the interest it has spawned in dance has prompted the BBC and other broadcasters to exploit this to the maximum and make a whole raft of other dance related programmes to show off a wide range of dances. The renowned choreographer Arlene Philips has hand a hand in many of these, as she is passionate about getting more people involved with dance.
They have ranged from Strictly Dance Fever, where existing dance couples competed in a wide range of dances, not just ballroom, and Dance X, where individual dancers became part of a team and had to dance for survival each week. Such is the power of dance these days that even in Simon Cowell's juggernaut of reality TV, Britain's Got Talent, dancers are frequently winning the day against singers, as dancing continues to win over new fans, old and young.
You might also like...