The Salsa Explained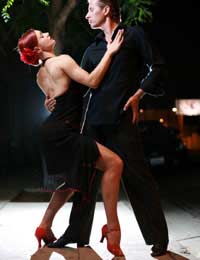 Salsa has become hugely popular in recent years and has enjoyed a massive boom in popularity. The reasons for this can be traced to the fact that salsa can be learned as a dance with a partner, or with friends, or alone. This has paved the way for plenty of people, mostly women it has to be said, to learn salsa even without a reluctant other half, and probably enjoy it more as a result. As learning to salsa has risen in popularity, so it has captured the attention of popular culture. Characters on TV sop operas such as Eastenders have been seen learning to salsa, which of course then has an effect on the numbers of people signing up to classes across the country.
The Steps
Although to dance salsa, a person needs some sense of rhythm, it is ideally suited to people who have no other dance experience because of the way the steps work. The steps are done in accordance with the beat, and when dancing with a partner, the dancer can simply follow their feet. Of course, this does increase the chances of treading on your partner's feet but it also gives the beginner something to work from.
Hips
Hips are one of the defining characteristics of salsa dancing. Beginners often find the hip movements one of the hardest things to deal with, especially if the person has never danced before, as it requires a good deal of rhythm to get the movement right. However, one advantage of salsa is that this most difficult part of the dance does not affect the feet, so even someone whose hip movements are hopeless can get to the right place in the right part of the dance.
Types of Salsa
Salsa is not a standalone dance which can be defined easily. In actual fact it is the name given to a group of different styles which all move in the same way. They are all based on the son style of dancing and have their origins rooted in Cuba. But different salsa styles evolved in different areas and often have characteristics associated with that particular area.
The different salsa can largely be categorised into Latin American styles and north American styles. The Latin American styles obviously originated in Cuba, which is the country most people associate with salsa dancing. But there are also variants from Costa Rica, Venezuela and lots of Caribbean islands.
North American styles, including LA style and New York style, are also popular forms of the dance and there are definite traits of their cities in evidence. For example, the New York style of salsa was heavily influenced by jazz music, as that was the music being played as people started to dance to it during the 20th century.
Unlike lots of forms of ballroom dancing, and even some Latin types, salsa is actually growing in popularity. It is seen as a glamorous pastime and a chance to get dressed up and have some fun. And as it is great exercise too, as well as a good way to meet people, it seems as though it is here to stay as a way of spending time and having a good time with friends.
You might also like...