Ballroom Dancing Without a Partner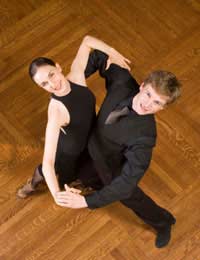 You've browsed your studio's list of classes and chosen a ballroom class that sounds right for you. You've dug out an outfit and you've got the right shoes. Then you remember that famous adage: it takes two to tango. Unfortunately your best friend is on holiday in Egypt and your cousin is famous for stepping on your toes at family weddings. Ever wondered if it's okay to turn up to a ballroom class solo? You're in good company, and in luck; the short answer is 'yes'!
In Class
In a classroom setting, it is often more than okay to come without a partner. Odds are there will be others who are there alone as well. One possibility is that you may find a handsome man or fiery lady to sweep you off your feet for the hour. However, many instructors who teach large classes – in fact, most instructors – encourage students to change partners often. This method not only makes students more adept at falling into synch with other dancers, but also helps solo dancers like you get as much out of the class as those who came as a pair. Ballroom, by nature, is a 'social dance'. So don't be afraid to socialise! Meeting new people is part of what makes dancing with a partner exciting, and you will get to know the people in your class with greater speed and ease by dancing with them.
One-on-One
If you've scheduled a private lesson or a one-on-one session with an instructor, you still have the option of taking a friend or going alone. Although you should specify when booking whether the lesson will be for one or two, an experienced teacher will be able to cater to your needs in either scenario. In fact, sometimes, if a dancer has booked the lesson to get extra help or to overcome insecurities, it is more beneficial to go it alone. Your instructor should be skilled enough to dance either the male or female part, and therefore, with he or she acting as your partner for the duration of the lesson, the help you get will be specific to you! In this way, your teacher will be able to teach by example rather than having to explain each movement or its quality to you. You might find that partnering with your instructor is the fastest and easiest way to improve your skills and style.
Finding a Partner
If the thought of turning up for that first class on your own still gives you chills, there is always the option of seeking out a partner before you go. Depending upon your preference, this could mean asking a friend from school or work, chatting to someone in the foyer before the class begins, or even searching the internet. In today's age of online dating and advanced technology, there are websites which cater specifically to dancers looking for a partner. Browse one of these sites to see if this option seems right for you. Otherwise, there's always the option of a spouse, relative, or even sibling. Who knows, you two might just wow the crowd at the next big family gathering!
Although the idea of learning a partners' dance without a partner may seem counterintuitive, and even a bit awkward, remember that you are an individual dancer and that the purpose of a class is to build your confidence as well as your skills. Setting aside those feelings of uncertainty will allow you to grow in both proficiency and popularity!
You might also like...