My Husband to Be Couldn't Dance: A Case Study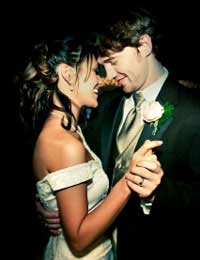 Joanne was really looking forward to her wedding - with one minor problem. The groom, James, had two left feet and flatly refused to dance. Worried that this would mean they would have no first dance, Joanne decided to enrol them in classes to try and combat the problem.
A Pre-Wedding Problem
"It really upset me that James absolutely refused to dance at our wedding," says Joanne. "But he said he would just be making a fool of himself in front of all of our friends and family. He didn't understand why it was so important to me, but, of course, it was. I wanted to be able to glide around the floor with the man I loved - it's a part of every girl's dream wedding."
She added that his proficiency in dancing did not matter to her.
"All I wanted was to be held in his arms on the dance floor. I didn't mind if he shuffled or swayed or what, but he seemed to think that would make him look stupid as well."
Finding a Solution
After a period of arguing but getting nowhere Joanne decided to investigate lessons. If James wouldn't just sway on the floor with her, he would have to learn properly - and she thought she might enjoy it too.
So Joanne set about phoning a few schools which advertised dancing lessons for your wedding.
"I found one which seemed perfect - exactly what a nervous groom needed," she said.
The Dance Lessons
Joanne somehow persuaded James to go along, and of course, because he loved her, despite his terror at the idea, he wanted to make her happy and decided to do what she asked.
"As soon as we arrived for our first lesson, we were put at our ease. It was the perfect solution. Lisa, our teacher, asked us what music we were going to dance to and we told her. She then chatted to us about what style of dance we wanted and set about working with us to teach us some basic moves."
Joanne said the lessons went from strength to strength.
"After we had mastered some of the most common moves, Lisa set about choreographing us a dance to learn and perform which we picked up with surprising ease. We loved it and neither of us could wait to perform it our wedding."
Carrying it Off
When the time came on the big day, Joanne and James were really looking forward to their dance.
"It was a great success," recalled Joanne. "Not only did we manage to carry off the whole dance with very few mistakes but we both really enjoyed it too. It gave James the confidence he needed to carry on dancing for the rest of the evening and everyone noticed how good we had become at dancing."
"Everyone said what a great job we had done, and because we hadn't told anyone about the lessons, it was all a surprise. It was one of the best memories of the whole day and one we will treasure forever. And sometimes, James can even now be prevailed upon to dance at other people's weddings!"
You might also like...