Belly Dancing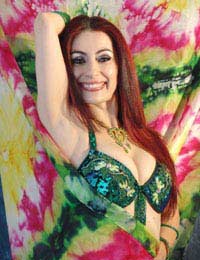 Although belly dancing classes have gained popularity in recent years cropping up in studios throughout the UK and building up an even more diverse following, there is still a widespread lack of understanding about the dance and its many forms in Western culture. Dating back centuries, the exact origin of belly dance, more accurately called Oriental dance, is not known.
Debate exists among experts and dancers as to where this style of dance originated both culturally and geographically. It is thought by some to have been a religious dance, while others believe it descended from Ancient Egypt, began as a birthing ritual, or migrated from India.
From East to West
Whatever its true origin, Oriental dance is historically a form of social dance performed in Middle Eastern society. Although Westerners often classify belly dance as a means of seduction, in fact, it is a cultural dance which features in social and cultural gatherings such as weddings, community festivals, and childbirths. These events include families and children and the dances performed are passed down through the generations. Still, there is a level of propriety that dancers, particularly female, are expected to maintain in Eastern and African cultures. In some countries, women should only be seen dancing by their husbands, close friends, or family. For this reason, some factions of these cultures believe that the professional performance of these dances is morally unsound. However, professional dancers and their performances are entirely responsible for the spread of Oriental dance on a global scale.
Also known as 'raqs sharqi' in Arabic, Oriental dancing was introduced to Western audiences in the 18th and 19th centuries, when Romanticism and Orientalism swept Western cultures. During this period, Western European societies developed a fascination for Eastern images and traditions. Raqs sharqi dancers appeared in Western paintings and performed at various World's Fairs. Film clips were shown at nickelodeon cinemas and soon, Western women became interested in learning this unique style of dance, in which emotions evoked by the music are expressed by movements of the entire body, beginning in the feet and concentrating in the hips and pelvis. Their interest was no doubt heightened by the scandalising of Eastern dance in the West due to its 'immodesty'.
Changing the Look
Because it is this 'performative' version of Oriental dance that has become most popular in both the East and West, thriving in nightclubs and dance videos, the attire associated with the dances have altered accordingly. The traditional clothes worn by Oriental dancers have been abandoned for more elaborate and exaggerated costumes. In the 1930's, Egyptian dancers in Cairo began wearing clothes which adhered to the Western perception of the 'harem', in order to attract tourists. These costumes included a fitted bra top with beads or coins, an embellished hip belt, and a loose skirt or pants. The 1940's saw the incorporation of the veil. Veils are often discarded by Egyptian dancers after the first few minutes of the dance, while Western dancers today sometimes use veils for the duration of a performance.
Contemporary Styles
The mass popularisation of belly dancing today in the US and the UK began back in the 1950's and 60's. Nightclubs in cities like New York and London, owned by Greek, Turkish, or Lebanese proprietors, propagated the varying styles and traditions. As certain dancers gained popularity among patrons, they began to offer classes. And as Oriental dance performances and lessons became increasingly popular in the 60's and 70's, traditional belly dance styles began to fuse with Western dance styles and pop culture trends.
Today, dancers in America learn American Tribal, American Cabaret, Egyptian, or Turkish styles of dance. While in the UK, modern, tribal, Persian, Greek, Egyptian, American Tribal, and Gypsy have become popular. All over though, ballet, contemporary, jazz, hip hop, and world fusion traditions have begun to infiltrate traditional Oriental styles. The result is that dancers of all schools and backgrounds have begun to explore Oriental-inspired movement. Pop music artists such as Shakira, Beyonce, Nelly Furtado, and Christina Aguilera incorporate belly dancing into their performances and videos and Eastern dance styles have become familiar and accessible within a Western context.
It is now easier than ever to learn traditional belly dancing techniques. Many dance studios now offer belly dance lessons, universities offer classes and clubs, and Oriental dance festivals and conferences take place in countries throughout the world. As further proof of the globalisation of the dance community, Eastern and Western dancers and dances have begun to influence one another more strongly than ever before and excitingly, the future of dance lies in these cross-cultural references and our ever-growing ability to broaden our scope as dancers.
You might also like...