Choosing a Contemporary Dance Class or Teacher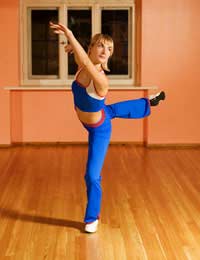 In the world of contemporary dance, there are just about as many different styles of movement as there are dancers! Every teacher, class and choreographer will present a different set of expectations and lessons. Therefore, when it comes to choosing a contemporary class or instructor, it's important to get a sense of the particular style being emphasised in each class. This will help you determine what makes the class unique and work out whether or not the instructor is right for you.
Techniques
The different styles within the genre of contemporary dance spring largely from the strong influences of an array of early modern dancers. Depending upon which school or lineage your instructor descends from, you might find that his or her choreography resembles or incorporates specific techniques.
One prominent contemporary technique is Graham, which comes out of the work of American choreographer Martha Graham. Graham technique focuses on contraction and release, giving the dance a dramatic and dynamic quality.
The Cunningham technique is based on the work of Merce Cunningham, a student of Graham's. Because Cunningham had a particular interest in physics, spirituality and spatiality, the Cunningham technique focuses on the articulation of the body in terms of space, rhythm and shape.
The Limon technique, inspired by the choreographer Jose Limon, emphasises weight, gravity, momentum and suspension by way of falling, rebound and recovery. Finally, the Release technique explores the releasing of tension, the search for fluidity and the use of energy and breath.
Instructors might be influenced by one or more of these techniques and will structure their class accordingly. Still, other teachers might mix traditional techniques with other influences, whether it's new choreographers, pop culture, or images from their own imagination.
Searching for a Match
In order to learn more about the kind of contemporary dance emphasised in a particular class by a particular teacher, go straight to the source. Ask the instructor who or what inspires him or her. Perhaps he or she can direct you to other places and times to see their work in rehearsal or performance. In any case, they will almost certainly welcome you to join their class temporarily to get a sense of what it's like.
When you try a new class in any dance genre, it is important to remember that you might feel a few steps behind at first. The other students might already know the set warm-up or better understand the language and vocabulary used by the instructor to describe movements and qualities. Don't let this put you off. Remember that in time, you too can master the technicalities and instead, use these early classes to try and get a sense of what kind of emotions, senses or images your instructor tends to work from. If his or her style is fun and interesting for you, think about sticking with the class permanently. If not, thank him or her for the opportunity to sample the class and try a new class the following week.
Most studios and schools offer a variety of contemporary classes and purposely hire a set of instructors with different styles of teaching and ways of working. Don't give up until you find the class that satisfies you artistically and stylistically. Martha Graham once said, 'You have to keep yourself open and aware to the urges that motivate you.' Hold on to this mentality and you are sure to find a contemporary style that suits your needs and wants.
You might also like...